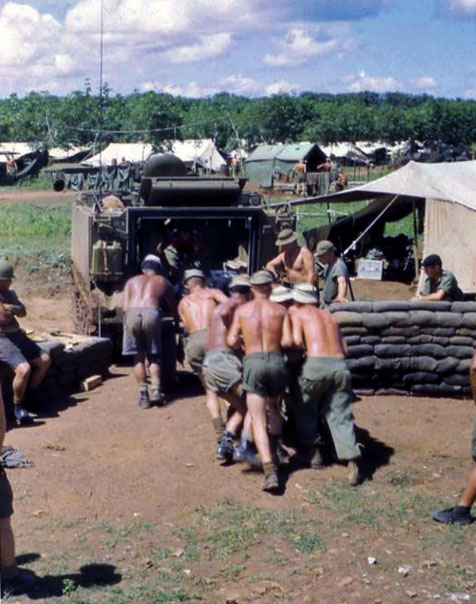 The morning brings a move by APC to another area where apparently we will give support to infantry protecting an American road building unit. The guns at this stage are still the Italian L5, 105mm Pack Howitzer and a method of transporting them inside APCs has been devised. This system has the advantage of concealing the presence of artillery from the VC, until it is too late and thus providing them with a nasty and unexpected experience.
The trip by APC is another first. The vehicle steers by track braking and as we have opted to sit on top of the body rather than ride inside there is a constant likelihood of being catapulted off during a turn. We arrive in the new area which is a rubber plantation during a very hot afternoon. The temperature reaches around 60°C and is really felt by those of us not yet acclimatised. It is the height of the dry season and there is not a lot of water available.
The battery area is set up and then we start on our individual hoochies and shell scrapes. I discover that the ground is laterite. It has to be broken up with a pickaxe before it can be shovelled out - hard work at any time, each swing of the pickaxe gains about an inch of depth. Part way through digging my world goes all hazy and out I go – heat exhaustion. I feel like I have been wrung out. My hoochie mate, Joe, tells me to keep out of the way while he finishes my shallow shell scrape.
Soon it is dark and after a few hours in the command post on radio duty (my deputy is still acting as Sigs Sgt) I make my way to bed. I am still a little light headed with heat exhaustion and fall asleep easily. Sometime during the night I am partially awake and see coloured lights overhead. They seem to pass below the hoochie and above our mosquito nets. In a half dozy state I ask Joe if these lights are fireflies. There's a rather violent reaction as he informs me in rather uncouth terms that my fireflies are tracer rounds. This statement is made as he tries to demolish our hoochie in the process of making a wild dive into his shell scrape.
I catch on real quick! Instant awake.
The noises of weapons being fired are suddenly loud and their true significance is grasped by my mind. Not too far behind Joe I make for my shell scrape. The shell scrape is a haven. Thank you Joe for finishing it, but why, oh why were you not my height? The damned thing is too short. I have a choice: head out, feet out or knees out, but not all of me in.
It is downright noisy from time to time and every time a new burst of activity starts up I am acutely aware of whatever bit of my anatomy happens to be above ground at that time. This unholy row seems to go on for hours. Machine gun fire passes through, mortar bombs arrive and our own guns fire in response to various calls for support. What the hell am I doing here? This is dangerous! M-ooo-th-eee-r!
Reference
Extract from unpublished memoir of David Roberts (1937-2005)
How to cite this page: '
Shell scrape - memoir of David Roberts
', URL: https://vietnamwar.govt.nz/memory/shell-scrape-memoir-david-roberts, (Ministry for Culture and Heritage), updated 05-Sep-2013