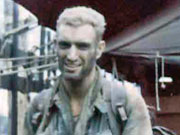 Notes:
Commanded the last 4 Troop NZSAS detachment in Vietnam, 9 Oct 1970 – 28 Feb 1971.
Resigned from the Army in 1980 and then joined the territorial force with 5 WWCT (OC A Coy) in New Plymouth before moving to Auckland with work. Transferred to the TF NZSAS and served in a series of projects until retirement in June 2009. Currently employed as an adviser in medallic policy at HQ NZDF.
Lives in Masterton and active in the NZSAS Regiment Association – editor of the Free Glance on and off since 1983.
Vietnam War Oral History Project interviewee. Interview and transcript held at the Alexander Turnbull Library Oral History Centre in Wellington, New Zealand. Reference: OHInt-0959-65
Disclaimer
The Vietnam List is an updated version of New Zealand's original Vietnam nominal roll – the Flinkenberg List – compiled by Captain Con Flinkenberg in 1972. Name, rank and unit information are from New Zealand military pay records. Read more about the Vietnam List.