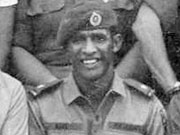 Honours & Awards:
Training Service Medal 1st Class (SVN)
Date of death:
Wednesday, 17 November 1982
Notes:
Was 2IC of 1NZATTV when Major Laurie Pilling was team commander. Promoted to Major and given command of 1NZATTV when Pilling returned to New Zealand in August 1972.
Disclaimer
The Vietnam List is an updated version of New Zealand's original Vietnam nominal roll – the Flinkenberg List – compiled by Captain Con Flinkenberg in 1972. Name, rank and unit information are from New Zealand military pay records. Read more about the Vietnam List.