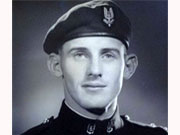 Date of Birth:
Saturday, 10 September 1938
Notes:
Served with 2 NZ Regt in Malaya, 1960. Acting Major with 2 Detachment NZSAS in Borneo, 1965–1966. Came to Vietnam as a visitor from 1RNZIR, January–July 1967. He was 2IC for Admin Company in support of NZ Component and the Rifle Companies. Promoted to Major after his return to New Zealand and retired as Lieutenant colonel.
Disclaimer
The Vietnam List is an updated version of New Zealand's original Vietnam nominal roll – the Flinkenberg List – compiled by Captain Con Flinkenberg in 1972. Name, rank and unit information are from New Zealand military pay records. Read more about the Vietnam List.