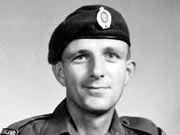 Notes:
Served in Vietnam as section commander with 2 Platoon, V3 Company, 1968-1969.
On leaving the army in 1984, Bill was appointed manager of the Rannerdale Veterans' Home, Christchurch, a position he held for 18 years. "I went from managing young soldiers to managing old soldiers."
Disclaimer
The Vietnam List is an updated version of New Zealand's original Vietnam nominal roll – the Flinkenberg List – compiled by Captain Con Flinkenberg in 1972. Name, rank and unit information are from New Zealand military pay records. Read more about the Vietnam List.