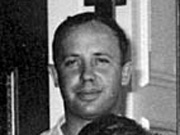 Notes:
Posted to Force HQ. Completed 28 flights into or through Vietnam with 41 Sqn RNZAF (1965–1968 and 1975), and seven flights into Vietnam with 40 Sqn RNZAF (1969–1971). Held the rank of Squadron Leader from 1969.
Now lives in the United States. For more information about Peter's aviation career see: http://www.dudesdownunder.com/index.html
Disclaimer
The Vietnam List is an updated version of New Zealand's original Vietnam nominal roll – the Flinkenberg List – compiled by Captain Con Flinkenberg in 1972. Name, rank and unit information are from New Zealand military pay records. Read more about the Vietnam List.