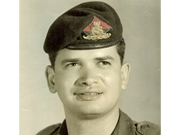 Honours & Awards:
Unit Citation for Gallantry (Australia)
Notes:
Founder and developer of Entertainers On Patrol. This website is dedicated to the Australian and New Zealand entertainers who risked their lives to present shows and raise the morale of service men and women in theatres of war.
Disclaimer
The Vietnam List is an updated version of New Zealand's original Vietnam nominal roll – the Flinkenberg List – compiled by Captain Con Flinkenberg in 1972. Name, rank and unit information are from New Zealand military pay records. Read more about the Vietnam List.