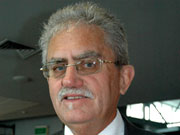 Honours & Awards:
Unit Citation for Gallantry (Australia)
Notes:
Served with 161 Battery RNZA, March 1968 to March 1969. Battery surveyor in the command post during the battles of Coral and Balmoral. Subsequently detached to a FO party with D Company, 3RAR and then 9RAR. The others in the FO party were Rod Baldwin (FO) and Mayne Manson and Peter Christian (Sigs). During the handover of battalions our FO party spent three weeks attached on liaison duties with H Battery, US 11th Armoured Cavalry Regiment ('Blackhorse Regiment') at Xuan Loc.
Disclaimer
The Vietnam List is an updated version of New Zealand's original Vietnam nominal roll – the Flinkenberg List – compiled by Captain Con Flinkenberg in 1972. Name, rank and unit information are from New Zealand military pay records. Read more about the Vietnam List.