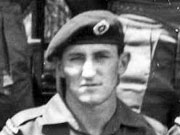 Honours & Awards:
Army Commendation Medal (US), National Defence Medal with Bronze Star (Khmer Republic)
Notes:
Wounded in action, 10 May 1970 – gunshot wound to chest in contact. Held the rank of Sergeant during second tour of duty with 2NZATTV.
Disclaimer
The Vietnam List is an updated version of New Zealand's original Vietnam nominal roll – the Flinkenberg List – compiled by Captain Con Flinkenberg in 1972. Name, rank and unit information are from New Zealand military pay records. Read more about the Vietnam List.