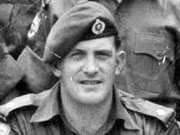 Place of burial:
Taita Cemetery, Wellington
Notes:
Brian Hall was a Portsea graduate who had a large physical presence but was soft in manner. He commanded 2 Platoon, V4 Company with distinction, courage, and great leadership (read citation for MC). When Brian passed away in 1987 his loss was felt not only by his whanau but by the New Zealand Army as a whole.
Disclaimer
The Vietnam List is an updated version of New Zealand's original Vietnam nominal roll – the Flinkenberg List – compiled by Captain Con Flinkenberg in 1972. Name, rank and unit information are from New Zealand military pay records. Read more about the Vietnam List.