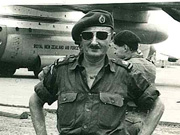 Honours & Awards:
Armed Forces Honour Medal 1st Class (SVN)
Date of Birth:
Saturday, 16 January 1915
Place of burial:
Makara Cemetery, Wellington
Notes:
Fleet Air Arm pilot in the British Pacific Fleet during the Second World War. Served in Japan, Fiji, and South Korea before Vietnam posting. Deputy adjutant and quartermaster-general (DA&QG) of New Zealand's V Force, helping co-ordinate administrative and supply arrangements for this force.
Disclaimer
The Vietnam List is an updated version of New Zealand's original Vietnam nominal roll – the Flinkenberg List – compiled by Captain Con Flinkenberg in 1972. Name, rank and unit information are from New Zealand military pay records. Read more about the Vietnam List.