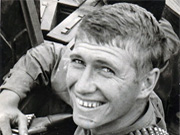 Notes:
Posted initially to 1 ARU before joining V3 Company in 1968. Subsequently served as Corporal with HQ V Force in 1971, and Sergeant with 1NZATTV in 1972. 
Bruce took a number of photographs during his tour with V3 Company 4RAR/NZ (ANZAC) Battalion, 1968-1969. You can see his collection here: 
Disclaimer
The Vietnam List is an updated version of New Zealand's original Vietnam nominal roll – the Flinkenberg List – compiled by Captain Con Flinkenberg in 1972. Name, rank and unit information are from New Zealand military pay records. Read more about the Vietnam List.