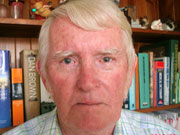 Notes:
Joined the New Zealand Army in 1965 at Wellington at age 23. Served in Vietnam with V1 Company, May-December 1967. Returned to New Zealand and deployed back to Vietnam with V3 Company as replacement for injured personnel.
Worked as a Registered Nurse for 30 years. Now retired and living in Queensland, Australia.
Disclaimer
The Vietnam List is an updated version of New Zealand's original Vietnam nominal roll – the Flinkenberg List – compiled by Captain Con Flinkenberg in 1972. Name, rank and unit information are from New Zealand military pay records. Read more about the Vietnam List.