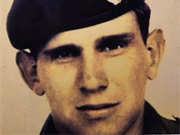 Notes:
Vietnam War Oral History Project interviewee. Interview and transcript held at the Alexander Turnbull Library Oral History Centre in Wellington, New Zealand. Reference: OHInt-0959-53.
Watch Memories of Service interview with Wayne Chester about his service in Vietnam (NZ On Screen): 
Disclaimer
The Vietnam List is an updated version of New Zealand's original Vietnam nominal roll – the Flinkenberg List – compiled by Captain Con Flinkenberg in 1972. Name, rank and unit information are from New Zealand military pay records. Read more about the Vietnam List.