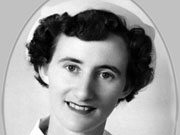 Honours & Awards:
Order of Merit 1st Class Chuong My (SVN)
NZOSM (2004)
Date of Birth:
Tuesday, 13 November 1928
Notes:
Lesley Estelle Cowper served as a nurse with the New Zealand (Civilian) Surgical Team in Qui Nhon. She became seriously ill after contracting tuberculosis and died in a Saigon hospital on 2 May 1966. See Auckland War Memorial Museum Cenotaph Database record. Most records including death registration spell the name Lesley. However her name is also spelled Leslie in publications.
Disclaimer
The Vietnam List is an updated version of New Zealand's original Vietnam nominal roll – the Flinkenberg List – compiled by Captain Con Flinkenberg in 1972. Name, rank and unit information are from New Zealand military pay records. Read more about the Vietnam List.