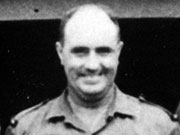 Date of Birth:
Thursday, 25 January 1934
Date of death:
Thursday, 7 December 2006
Disclaimer
The Vietnam List is an updated version of New Zealand's original Vietnam nominal roll – the Flinkenberg List – compiled by Captain Con Flinkenberg in 1972. Name, rank and unit information are from New Zealand military pay records. Read more about the Vietnam List.