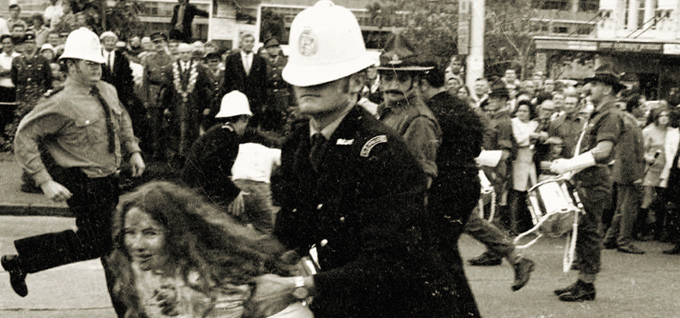 Homecoming: Vietnam's Legacy
I wake up in a sweat, absolutely shitting myself, because the frogs have gone quiet. 

Richard Easton, Victor Company
New Zealand's military presence in South Vietnam finally began to wind down when Whiskey 3 Company left Vung Tau on 10 November 1970. Vietnamese Regional and Popular Force units would fill the gap left by the Anzac troops, marking the beginning of the war's phase of 'strategic Vietnamisation'. New Zealand army instructors would play a role in the staged handover of responsibility to Vietnamese forces. The NZSAS was withdrawn in February 1971, after 27 months and 155 patrols, and 161 Battery followed suit three months later, with 17 major operations behind it.[1]
Most veterans recall their homecoming as uneventful at best, disappointing or upsetting at worst. David Grant found it 'galling' to arrive home under the cover of darkness without a uniform so as not to attract attention. Although this arrangement can be attributed to routine air traffic schedules at Whenuapai Airbase, it remains an unresolved point of contention for some veterans.[2]  For many, their arrival home was marked by their first experience of New Zealand's anti-war movement.  
Studies of the health and wellbeing of Vietnam veterans' partners reveal that many, and their families, suffer from secondary traumatic stress. One Australian study found sleep disturbance, alcoholism and violence common behaviour among veterans.[3] This evidence is borne out by the wives and children of New Zealand veterans.
Official recognition of the long-term harm caused by toxic exposure has been hard won. New Zealand government reports initially stated that no New Zealanders were deployed in areas where defoliants were used. This claim was quashed by Lieutenant-Colonel John Masters' 2002 discovery of campaign maps detailing the use of chemical defoliants in New Zealand areas of operation.
Related content
Want to find out more about the legacy of the Vietnam War? Click on the images below to access related written, audio, and video content:
---
[1] McGibbon, New Zealand's Vietnam War, Exisle Publishing, 2010,p. 457
[3] Sue Outram, Viebeke Hansen et al., 'Still living in a war zone: Perceived health and wellbeing of partners of Vietnam veterans attending partners' support groups in New South Wales, Australia', Australian Psychologist, June 2009, 44(2): 128–35
How to cite this page: '
Homecoming - No Front Line
', URL: https://vietnamwar.govt.nz/homecoming-no-front-line, (Ministry for Culture and Heritage), updated 06-Aug-2014