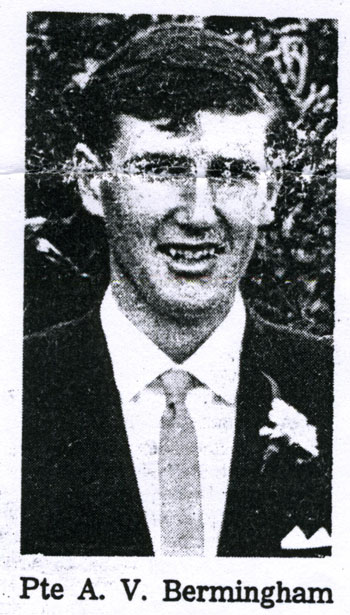 See article:
Newspaper article from The Northern Advocate about Private Arthur Bermingham, who died of wounds received in Vietnam on 20 November 1969.
Article transcript:
The Whangarei soldier, Private Arthur Vicary Bermingham, 21, who was seriously wounded by an exploding enemy mine in Viet Nam on August 12, has died in a Sydney hospital.
The Army has informed the man's father, Mr A. B. Bermingham, of Whangarei, that his son died on Thursday night.
His mother, who was flown by the Army to be at her son's side nearly two months ago, is expected back from Sydney tonight.
Pte Bermingham was one of three New Zealand soldiers wounded by shrapnel from a mine explosion in Phruc [Phuoc] Tuy province of South Viet Nam.
Another New Zealander died immediately in the incident.
His mother was flown to Fort Butterworth in Malaysia where Pte Bermingham was taken for treatment, because the Army said, her presence would materially help his recovery.
Pte Bermingham was later moved to Sydney but in spite of several operations remained seriously ill.
He had been in the Regular Force for two years, first in Malaysia and then in Viet Nam. His tour of duty in Viet Nam was nearly completed when he was wounded.
He was educated at Kamo High School and after leaving at 16 he was employed in various jobs in the Whangarei motor trade before joining the Army at the age of 19.
His body is being brought back to Whangarei and the funeral will probably be towards the end of next week.
Reference
The Northern Advocate, 22 November 1969. Article courtesy of Bill Bermingham
How to cite this page: '
Arthur Bermingham article
', URL: https://vietnamwar.govt.nz/photo/arthur-bermingham-article, (Ministry for Culture and Heritage), updated 22-Mar-2012