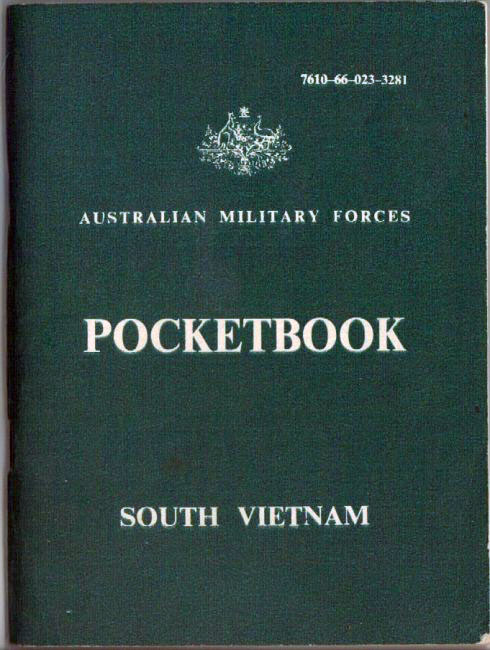 Cover of the Australian Military Forces Pocketbook on South Vietnam, 1966.
Part political doctrine, part tourist guide several thousand of these green-covered pocketbooks were issued to Australian and New Zealand military personnel during the Vietnam War.
Produced by the Australian Army Headquarters in Canberra during the mid-1960s, they provided soldiers with an overview of the history of Vietnam, its geography and climate, the people, religious beliefs and customs, as well as a list of useful Vietnamese words and phrases. There were also chapters on the organisation of the South Vietnamese military and their Viet Cong enemy. This information was illustrated with detailed drawings of Viet Cong soldiers and their weaponry. These ranged from conventional weapons such as mortars and machine guns to the improvised bicycle mine.
Look through the pages of an Australian Military Forces Pocketbook here.
Reference
Images courtesy James Hebden
How to cite this page: '
Australian Military Forces Pocketbook
', URL: https://vietnamwar.govt.nz/photo/australian-military-forces-pocketbook, (Ministry for Culture and Heritage), updated 10-Jul-2014