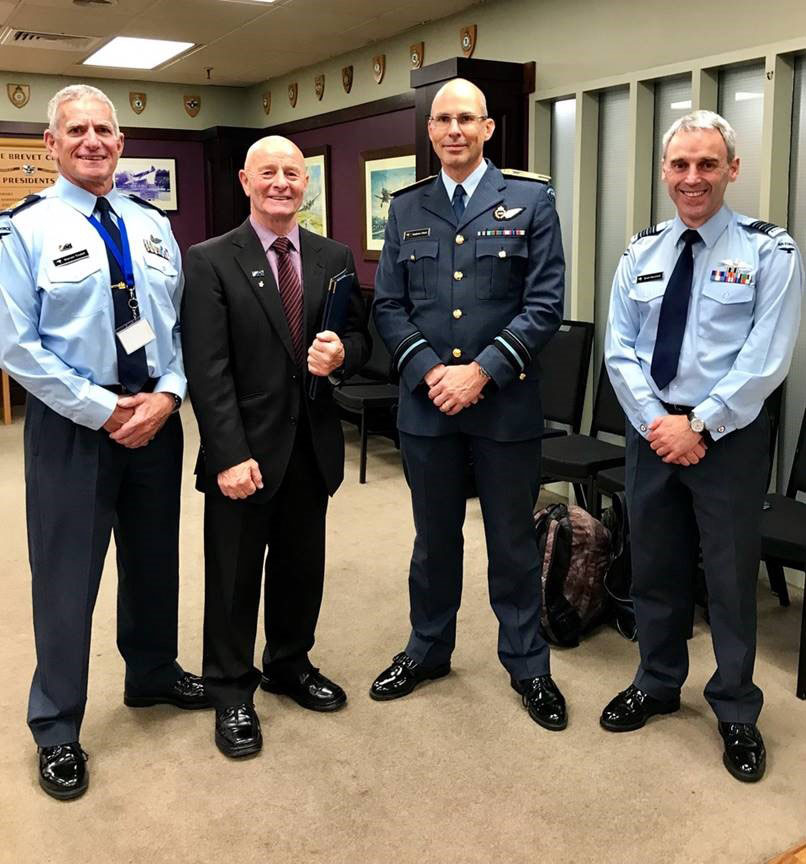 In May 2019 Doug 'Scotty' Wingfield received the Chief of the Air Force Commendation for 'outstanding zeal and devotion to duty' in recognition of his research into 41 Squadron's 'lost' Vietnam War veterans. You can watch a video about Scotty's award here. 
Pictured at the award ceremony are (left to right): Warrant Officer Warren Tyndall, Doug 'Scotty' Wingfield, Air Vice-Marshall Andrew Clark, Deputy Director Of Air Force Museum Brett Marshall.
Award citation
The Chief of Air Force Commendation is awarded to all ranks and civilian employees of the Royal New Zealand Air Force (RNZAF) for outstanding zeal and devotion to duty.
Douglas 'Scotty' Wingfield joined the RNZAF on 10 January 1961 as a Boy Entrant and was trained as an Engine Mechanic. Mr Wingfield served as an Aircraft Engine Fitter with 41 Squadron RNZAF at Royal Air Force (RAF) Changi in Singapore, from March 1967 to December 1968. He flew in and out of Vietnam as a supernumerary crewmember on Bristol 170 Freighter aircraft. He resigned from the RNZAF on 4 February 1969 having completed 8 years' service with the RNZAF. 
In October 2012, he applied for medallic recognition for the seven or more sorties he flew to Vietnam with 41 Squadron and discovered there was no record of any of those flights. As a result, he realised that the hundreds of 'supernumerary crew' that had flown in and out of Vietnam, had not been recorded officially other than within Flight Authorisation books or Pilot Flight Logs that remained in the hands of the pilots. No copies of these existed or unit consolidated lists maintained. 
Mr Wingfield undertook his own research searching for the 41 Squadron's 'lost' Vietnam War Veterans. The aim of this research was to provide a comprehensive and authenticated list of all recorded flights, crews, locations and landings by 40 and 41 Squadron during the Vietnam War.
Mr Wingfield has researched the Squadron's official Unit Histories covering a 12 year period from February 1963 to April 1975. This research has taken over 6000 hours and resulted in finding 137 servicemen that have been unable to receive, due to lack of evidence, their medallic recognition and Vietnam Veteran status. 
Not only is Mr Wingfield actively searching for the members of 41 Squadron who are eligible for their medals and Veteran status, but he has created a verifiable and easily searchable database,  where every flight, crew member and landing by 41 Squadron's Bristol Freighters over this period, is recorded. This extensive piece of research, not only adds to New Zealand's Air Force history, it has subsequently led to the awarding of at least 84 medals to the servicemen of 41 Squadron. This medallic recognition has been appreciated by both the serviceperson and their families, including widows, to whom it has meant a great deal.
This project has been voluntary and Mr Wingfield has invested a significant amount of his own time into conducting the research. Mr Wingfield has meticulously cross referenced the Unit Histories and the Air Crew Flight Logs to identify those ground crew members who took part in these sorties and his research has subsequently been used by NZDF staff as a reference for applications for the New Zealand General Service Medal 1992 (Warlike) with clasp Vietnam. 
For his exemplary dedication and commitment to this highly regarded research, Mr Wingfield is hereby awarded the Chief of Air Force Commendation.
Reference
Image courtesy Scotty Wingfield
How to cite this page: '
Doug Wingfield receives rare award
', URL: https://vietnamwar.govt.nz/photo/doug-wingfield-receives-rare-award, (Ministry for Culture and Heritage), updated 21-May-2019