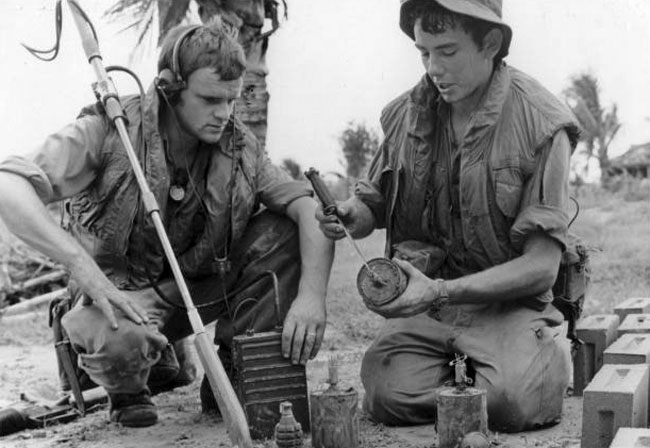 Bob Liard (left) and David Wright, 1 Field Squadron, Royal Australian Engineers, inspect an American-made M16 anti-personnel land mine. The men are about to attach an anti-lifting device – a hand grenade – to prevent the enemy from removing the mine.
The M16 mine was a fearsome weapon. When triggered, a charge in the base of the mine caused it to leap in the air and explode – sending metal fragments in a 360 degree radius. The shrapnel could cause fatal injuries up to 100 metres. In Vietnam the M16 was known as a 'jumping jack' among Australians and New Zealanders and 'bouncing betty' among Americans.
Listen to Hawea (Guv) Grey talk about jumping jack mines here.
How to cite this page: '
Engineers with M16 land mine
', URL: https://vietnamwar.govt.nz/photo/engineers-m16-land-mine, (Ministry for Culture and Heritage), updated 12-May-2014