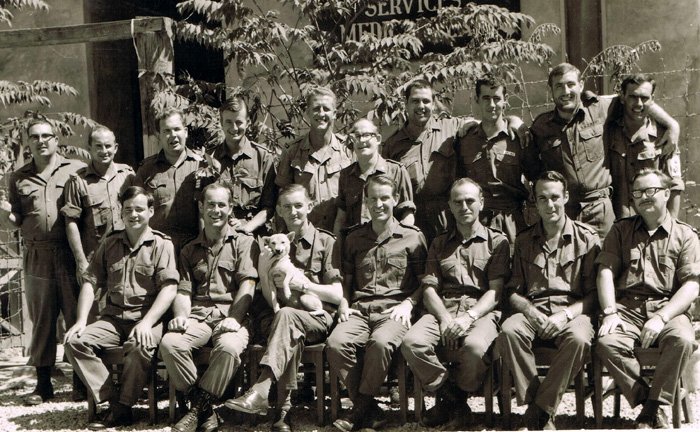 New Zealand Services Medical Team pose with animal mascot, circa 1970.
Back row (left to right): SSgt Peter Day, Sgt David Glanville, Sgt Owen Snelling, Sgt Malcolm Knox, Sgt Eugene Clements, Sgt William Dutson, MPO John Shannon, MPO Barry Nash, MPO Thomas Maguire, MCPO Thomas Neve.
Front row (left to right): SSgt Garry Palenski, Lt James Walkinshaw, Maj Bernard Welford, Maj Allan Bean, Sqn Ldr Max Pearl, Maj Peter Leslie (?), WO1 Peter Haynes.
How to cite this page: '
NZSMT, circa 1970
', URL: https://vietnamwar.govt.nz/photo/nzsmt-circa-1970, (Ministry for Culture and Heritage), updated 02-Mar-2022