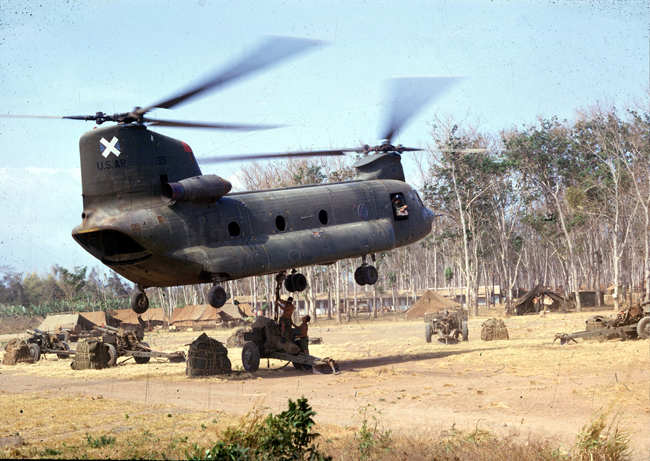 Main image: Chinook CH47 helicopter moving 105mm Howitzers to fire support base prior to Operation Coburg. See more photographs below.
Victor 2 Coy was deployed to South Vietnam in November 1967 and integrated with 2nd Battalion Royal Australian Regiment.
The first deployment was at the Horseshoe, a company position located 8,000 metres southeast of the task force base. The Company provided security to Dat Do Village against the Vietcong enemy. From the Horseshoe, the Company relocated to Nui Dat, east of Saigon, which was the task force base. V2 Company spent more than 80 per cent of the time on operations, carrrying out cordon and searches of towns and villages, patrols and ambushes, often at night.
The biggest operation V2 Coy was involved with was Operation Coburg in Bien Hoa Province, southwest of Saigon. It was one of the largest military operations of the war, which involved significant clashes with enemy forces. At the conclusion of Operation Coburg, the 1st Australian Task Force Commander received the following signal from US General Weyand:
Please accept my highest commendation and appreciation for exceptional performance in defeating the enemy's TET Offensive attacks against the critically important Bien Hoa-Long Binh province. The subsequent disruption of their attacks and the way-laying of the enemy forces as they withdrew were key factors in his defeat and reflect great credit upon the officers and the men of your fine command; well done.
Victor 2 Coy was proud of its identity as a fighting force and was determined to do its job to the highest standards of professionalism. 
Tribute to a fallen comrade
463211 Pte HD Hirini, V2 Coy 1RNZIR
Operation Coburg, Vietnam War, 1 February 1968
Des will always be remembered by all his comrades who fought beside him.
We also remember other comrades who lost their lives in Vietnam.
'Ka maumahara tonu tatou ki a ratou….ka maumahara tonu tatou ki a ratou'
Tony Pringle photographs
How to cite this page: '
Operation Coburg - Tony Pringle
', URL: https://vietnamwar.govt.nz/photo/operation-coburg-tony-pringle, (Ministry for Culture and Heritage), updated 14-Mar-2019