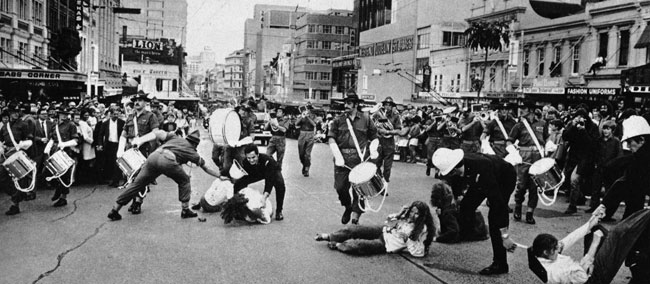 Police remove protesters attempting to block the progress of the Band of the Royal New Zealand Artillery during a civic parade in Auckland, 12 May 1971. The parade was part of a civic reception organised to welcome home 161 Battery RNZA and 4 Troop NZSAS from their deployment in Vietnam.

In the foreground of the photo are (left to right): Graham Barker, Brian Edmonds, Drum Major Tom Gannon (with protester), Bruce Cornwell, ?, Jim Cairney.
See more images of the parade here.
Reference
Image courtesy Brian Edmonds
How to cite this page: '
Protesters interrupt 161 Battery parade
', URL: https://vietnamwar.govt.nz/photo/protesters-interrupt-161-battery-parade, (Ministry for Culture and Heritage), updated 28-Apr-2011