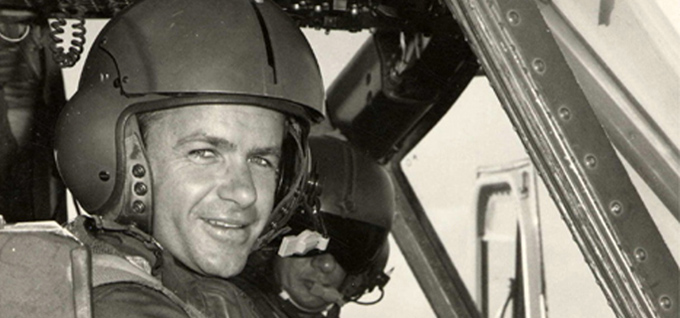 Sky Service: Pilots and troopers
It was said that there was a $1000 bounty on forward air controllers, because they were the key. No forward air controller, no strike. Pretty simple. 

Graeme Goldsmith, forward air controller
'Air mobility,' writes John Everett-Heath, 'was born during the Korean War and came of age in Vietnam.'[1] This has been dubbed the helicopter war, so prolific was its reliance on airborne force and transportation. Heavy, threatening helicopters remain the enduring image and sound of the conflict. New Zealand's contributions to the air war were small in number, but highly specialised in roles and responsibilities, and ably supported the Kiwi ground forces. The RNZAF played an integral part in transporting infantry troops and ferrying elite SAS troopers in and out of jungle terrain.
Holyoake, who initially feared New Zealand being tainted by association with United States bombing campaigns over North Vietnam, viewed the air force's combat involvement as 'a significant escalation of the New Zealand war effort'.[2] Pilot William Cowan was at Changi, Singapore, with 41 Squadron RNZAF when 'Kiwi Keith' arrived to deliver news of RNZAF's increased commitment to the Vietnam War.
New Zealand SAS personnel enjoyed a special relationship with and relied heavily on helicopter pilots, who were a trooper's best bet for a safe entry and escape from South Vietnam's dense jungle terrain – often under fire. In December 1968 the 26-man 4 Troop joined forces with the Australian Army SAS contingent at Nui Dat, boosting operational capacity to squadron-size, and took part in intelligence-gathering operations in Phuoc Tuy province, mounting 155 patrols over two years of deployment. The third and final 4 Troop detachment left Vietnam in February 1971.
Related content
Want to find out more about New Zealand air operations in Vietnam? Click on the images below to access related written, audio, and video content:
---
[2] Quoted in Margaret McClure, Fighting Spirit: 75 years of the RNZAF, Random House, 2012, p. 178
How to cite this page: '
Sky Service - No Front Line
', URL: https://vietnamwar.govt.nz/sky-service-no-front-line, (Ministry for Culture and Heritage), updated 05-Aug-2014