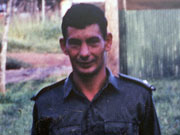 First name(s)
David Thomas
Notes
Served in Vietnam with 161 Battery RNZA, June 1968 to June 1969. Section Commander (Left Section) and FO with A Company, 3RAR and C Company, 9RAR. Also 1 ATF Artillery Liaison Officer with 18th (ARVN) Divison, November-December 1968, and AGPO 161 Battery, April-June 1969.
Remained in RF until late 1985. Served twice with 3rd Field Regiment; 1970-1972 (as Adjutant) and 1979-1982 (as Battery Commander and Regimental 2IC).
Vietnam War Oral History Project interviewee. Interview and transcript held at the Alexander Turnbull Library Oral History Centre in Wellington, New Zealand. Reference: OHInt-0959-25
Disclaimer
The Vietnam List is an updated version of New Zealand's original Vietnam nominal roll – the Flinkenberg List – compiled by Captain Con Flinkenberg in 1972. Name, rank and unit information are from New Zealand military pay records. Read more about the Vietnam List.