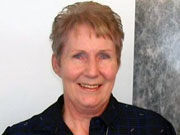 Notes
New Zealand Red Cross welfare support officer at the 1st Australian Field Hospital, Vung Tau, April 1970–June 1971.
NZOSM and NZGSM Vietnam awarded 2 May 2008 at NZ High Commission in London.  
Vietnam War Oral History Project interviewee. Interview and transcript held in the Alexander Turnbull Library Oral History and Sound collection in Wellington, New Zealand. Reference: OHInt-0959-05
Disclaimer
The Vietnam List is an updated version of New Zealand's original Vietnam nominal roll – the Flinkenberg List – compiled by Captain Con Flinkenberg in 1972. Name, rank and unit information are from New Zealand military pay records. Read more about the Vietnam List.