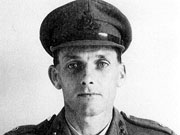 First name(s)
Maurice David
Honours & Awards
MBE, Presidential Citation (US), Unit Citation for Gallantry (Australia)
Notes
Captain Stanley enlisted in the New Zealand Army in January 1949 as a Regular Force Cadet. He entered the Royal Military College, Duntroon, Australia in January 1950 and graduated as a Lieutenant in December 1953. On his return to New Zealand in March 1954 he was posted to Central District Training Depot as an instructor, and served in this capacity until March 1957 when he assumed the appointment of Staff Captain 3rd Infantry Brigade. From March until September 1959 he commanded a platoon in 2 Battalion, The New Zealand Regiment and was then appointed Adjutant, 6 Light Anti Aircraft Regiment, Royal New Zealand Artillery. He held the appointment of a Battery Commander in 16 Field Regiment from March 1962 until March 1964 when he was posted to 4 Medium Regiment, Royal New Zealand Artillery as Battery Captain.
He served in 161 Battery in Vietnam from February 1966 until September 1966, recently returning to 161 Battery Depot in New Zealand.
On 18 August 1966 Captain Stanley was the Artillery Observation Post Officer attached to D Company, 6th Battalion, Royal Australian Regiment when this Company made contact with two enemy battalions in a rubber plantation in the Long Tan area Phuoc Tuy Province, South Vietnam.
D Company, 6RAR was quickly surrounded and suffered heavy casualties. Only the concentrated intense and accurate artillery fire immediately called down by Captain Stanley prevented D Company from being overwhelmed by sheer weight of numbers. Shortly after the action commenced the area was covered by a heavy tropical thunderstorm which hid enemy movement preventing the use of close air strikes in the area. Despite this lack of visibility and constant danger from enemy mortar and small arms fire in his exposed position, Captain Stanley continued for four hours to direct accurate close artillery fire onto the enemy's repeated attacks against the Company. This artillery inflicted such heavy casualties on the enemy that it broke up all attacks and unquestionably prevented the enemy from over-running D Company before reinforcements arrived.
Captain Stanley's extreme courage, calmness under fire and devotion to duty under the most dangerous and adverse conditions were an outstanding example to all. 
Disclaimer
The Vietnam List is an updated version of New Zealand's original Vietnam nominal roll – the Flinkenberg List – compiled by Captain Con Flinkenberg in 1972. Name, rank and unit information are from New Zealand military pay records. Read more about the Vietnam List.