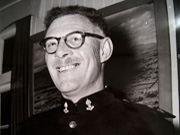 First name(s)
Peter Hulbert Glenn
Notes
Image: Engineer Corps Memorial Centre, 6642.
Chief Engineer in Wellington. Visited Vietnam early June 1964 as recce for deployment of RNZE team. Spent eight days with US and Vietnamese officials to get agreements signed for deployment and support. 
Disclaimer
The Vietnam List is an updated version of New Zealand's original Vietnam nominal roll – the Flinkenberg List – compiled by Captain Con Flinkenberg in 1972. Name, rank and unit information are from New Zealand military pay records. Read more about the Vietnam List.