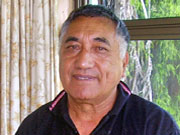 First name(s)
Tai Te Ngahere Oriwa
Notes
Wounded in action, 1 March 1968 – in contact; 2 August 1969 – booby trap at Lang Phuoc Hai; and 19 March 1970 – shrapnel wound to head during ambush in bunker system, Nui Dinh Hills.
Interviewed for the documentary, The Grey Ghosts – Maori Warriors in Vietnam (2013)
Disclaimer
The Vietnam List is an updated version of New Zealand's original Vietnam nominal roll – the Flinkenberg List – compiled by Captain Con Flinkenberg in 1972. Name, rank and unit information are from New Zealand military pay records. Read more about the Vietnam List.