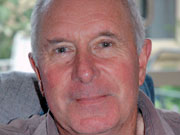 First name(s)
Graeme James Wharton
Notes
Attached to the 20th Tactical Air Support Squadron (20th TASS), USAF.
Service in Vietnam: arrived Saigon, 10 August 1971; served Cam Rahn Bay (12 August 1971), Chu Lai (15 August 1971), Phan Rang (15 September 1971), and Da Nang (10 October 1971–6 February 1972); returned to New Zealand, via Saigon and Singapore, 20 February 1972.
Disclaimer
The Vietnam List is an updated version of New Zealand's original Vietnam nominal roll – the Flinkenberg List – compiled by Captain Con Flinkenberg in 1972. Name, rank and unit information are from New Zealand military pay records. Read more about the Vietnam List.