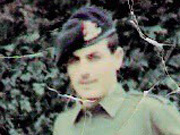 First name(s)
Findlay Malcolm
Notes
Served in Vietnam with 161 Battery RNZA 1969-1971. Crew member on No. 2 gun with 'Tiny' Manuera – fired the Battery's last shell in Vietnam.
After discharge from the military, lived and worked in Mataura for 25 years before moving to the United States. Currently lives in Idaho Falls, Idaho.
Disclaimer
The Vietnam List is an updated version of New Zealand's original Vietnam nominal roll – the Flinkenberg List – compiled by Captain Con Flinkenberg in 1972. Name, rank and unit information are from New Zealand military pay records. Read more about the Vietnam List.