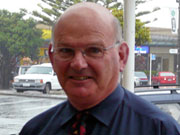 First name(s)
Lindsay John
Notes
Completed two tours to Vietnam with 161 Battery RNZA. In 1966 was part of a FO party with 6RAR; and in 1969 served with the FCC in the headquarters of 9RAR.
Served in the RF for over 30 years before retiring and taking a job with a local authority.
Vietnam War Oral History Project interviewee. Interview and transcript held at the Alexander Turnbull Library Oral History Centre in Wellington, New Zealand. Reference: OHInt-0959-81
Disclaimer
The Vietnam List is an updated version of New Zealand's original Vietnam nominal roll – the Flinkenberg List – compiled by Captain Con Flinkenberg in 1972. Name, rank and unit information are from New Zealand military pay records. Read more about the Vietnam List.