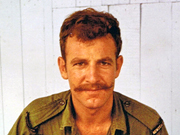 First name(s)
Ronald Robert
Notes
Completed 12 weeks National Service training before joining the Regular Force on 15 April 1969 Posted to 16 Field Regiment at Papakura Camp. Marched into 161 Battery Depot under Battery Commander Major McKinney and Battery Sergeant Major Goldsworthy. Completed 3 Star Driver/Operator training under Sergeant Bill Cooper and Bombardier Murray Broomhall.
Departed for Vietnam on 15 June 1970 and joined 161 Battery under Major Ray Andrews. After a week's orientation at Nui Dat base was transferred to FSB Le Loi under Captain Terry Gillooly. Was there for a week, and then posted to Lieutenant Rick Williams' FO Party with B Company 8RAR north of the Binh Ba rubber plantation. Operated with 8RAR until they departed Vietnam (10 October 1970) and then joined the FO Party of A Company 2RAR, with Lieutenant Nick Thornton, Bombardier Brian Soper, and Gunner Dave Lyttle. Operated with 2RAR until 161 Battery left Vietnam on 11 May 1971.
Left the Regular Force on 15 July 1971 and joined the territorial 4 Medium Battery out of Hopuhopu Camp, and later 6 Hauraki Regiment out of Tauranga, taking discharge in July 1981.
Disclaimer
The Vietnam List is an updated version of New Zealand's original Vietnam nominal roll – the Flinkenberg List – compiled by Captain Con Flinkenberg in 1972. Name, rank and unit information are from New Zealand military pay records. Read more about the Vietnam List.