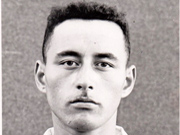 First name(s)
William Grover Cutlitt
Notes
William Grover Cutchim Subritzky  was born on 16 October 1944 at Auckland.  He was the son of William Grover Cutchim a US Marine, and May Subritzky.
Prior to his enlistment R & W Hellabys Ltd, Auckland, employed him as a labourer. He stood 5ft 10ins tall, was of medium build with dark hair and brown eyes. He was married and his next of kin was his wife Te Aroha (nee Puru).
He enlisted in the New Zealand Army on 1 September 1964 at Papakura Camp, as a gunner in the Royal New Zealand Artillery. On completion of recruit training at Waiouru, he returned to Papakura, was posted to 161 Battery (Depot), and was trained as a Gun Number and a Gun Tractor Driver.
On 7 March 1966, he was posted to active service with 161 Battery in the Republic of South Vietnam. He emplaned at RNZAF Whenuapai on 19 March 1966, and was taken on the strength of 161 Battery on 21 March 1966 as reinforcement, serving initially at Bien Hoa as a machine-gunner. During this period 161 Battery was attached to the US Army's 173rd Airborne Brigade. In May 1966 161 Battery moved by road to Phuoc Tuy Province to commence Operation Hardihood, the clearance of the Nui Dat Base. On completion of this operation 161 Battery became part of the 1st Australian Task Force. During June and July, the Viet Cong fired harassing fire into the task force base (using 60mm and 82mm mortars). Then on the night of 17 August the Viet Cong fired into the south-east part of the base, using approximately 5 mortar tubes and also three 57mm recoilless rifles; the base received some 130 rounds of incoming fire. The following afternoon, 18 August 1966, is now Long Tan Day.
A Viet Cong Main Force regiment and the local Force (D445 Battalion) were moving in to attack the 1st Australian Task Force Base when they were met by Delta Company of 6RAR (Royal Australian Infantry Regiment) on a routine patrol, some three kilometres east of Nui Dat. A major battle resulted when Delta Company, aided by the Task Force Artillery, 1APC (Armoured Personal Carrier) troop and air support, inflicted very heavy losses on the enemy. The Viet Cong sustained 245 killed with extensive equipment and material losses. The Australians sustained 17 killed and 22 wounded, and one M16 rifle was lost. 161 Battery was in direct support of Delta Company for this operation and the company's forward observer party was made up of New Zealand gunners. During the heavy fighting of Long Tan, everybody on the Battery position (including store men, drivers, cooks, etc) were employed supplying ammunition to the guns.
The Battle of Long Tan severely reduced the local influence of Viet Cong main and local force units; however, the task force had to contend with small guerrilla groups and clandestine Viet Cong operations. On 5 November (Guy Fawkes night), a Viet Cong sapper crawled a considerable distance across several paddy fields and set up a large Chinese type claymore more alongside 161 Battery's position; unfortunately for the sapper he failed to read the instructions and sited the claymore back-to-front – this had dire consequences for himself shortly afterwards when he initiated the device.
Gunner William Subritzky's tour of duty in South Viet Nam ended on 7 December 1966 when he emplaned at Tan Son Nhut Airbase for New Zealand via Singapore. He arrived at Whenuapai on 16 December 1966 and was posted to 161 Battery (Depot). He remained at 161 Battery (Depot) until 1 April 1968 when he transferred to the Royal New Zealand Corps of Transport as a driver until he was discharged "upon completion of his engagement" on 15 September 1969.
William Grover Cutchim Subritzky was awarded the following medals:
NZ Operational Service Medal
Queen's Vietnam Medal
NZ General Service Medal (Warlike)
NZ Defence Service Medal (National Service)
Vietnam Star & 1960 Bar
Vietnam Gallantry Cross with Palm South Vietnamese Presidential Unit Citation of the Cross of Gallantry with Palm Leaf (during his tour with 161 Battery)
US Army Citation (service in 161 Battery)
Disclaimer
The Vietnam List is an updated version of New Zealand's original Vietnam nominal roll – the Flinkenberg List – compiled by Captain Con Flinkenberg in 1972. Name, rank and unit information are from New Zealand military pay records. Read more about the Vietnam List.