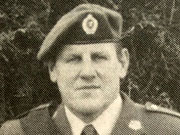 First name(s)
Leslie Norman
Notes
Wounded in action, 25 June 1971 – gunshot wound to right foot in contact.
Fame has always been difficult to claim for the Vietnam War. This has proved the most controversial conflict of the Cold War, and it remains so. Two Templetons were involved in that nasty and difficult war.
The first we can note was Leslie N. Templeton, No. 982642 who came from Invercargill. He joined the regular army in 1969 and went overseas in October 1970. Serving with Victor 6 Company, he was wounded in June 1971 and writes:
The weather was a nice warm 330C, falling to a cool 280C at night. Our operations were about seven weeks long with re-supply of food and water every seven days. On Thursday evening, 24 June, we hit the ground. Rounds were buzzing round our heads. The next morning, we moved off very slowly. My section commander initiated fire with a group of 15 enemy. Next thing all hell broke loose. We had run into a battalion HQ with a section of heavy weapons, RPGs and 127s. Unfortunately, I did not find a hole big enough to hide in. One minute I was on my stomach, then I found myself on my back with a very sore foot. The air force came to the rescue with a chopper. My mate and I were winched out under heavy, indiscriminate fire. We were taken to a first-aid post and then flown to hospital for treatment before being flown to Singapore.
Les returned to New Zealand where he was to retire in 1977 as a very experienced sergeant with the Vietnam Medal, and continue with the Territorials until 1994. In civilian life Les worked as a Meat Inspector with the Ministry of Agriculture and Fisheries and, in recent years, as a Prison Officer at the Invercargill Prison.
Disclaimer
The Vietnam List is an updated version of New Zealand's original Vietnam nominal roll – the Flinkenberg List – compiled by Captain Con Flinkenberg in 1972. Name, rank and unit information are from New Zealand military pay records. Read more about the Vietnam List.