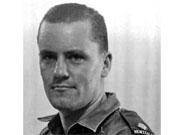 First name(s)
Stanley James
Place of burial
Papakura, Auckland
Notes
Killed in action, 17 April 1970 – gunshot wound to body in contact.
Born in Auckland, Stan was the only son in a family of seven children. Moving to Rotorua and then Christchurch, he worked as an entertainer before joining the Regular Force from the Territorial Force in 1967. Posted to Terendak, Malaysia, he arrived in Vietnam as a replacement Platoon Commander with V4 Company in November 1969. On 17 April 1970 Stan's platoon were leading a company advance during Operation Townsville – V4's final operation – when they contacted the enemy and he was killed in action. His name appears on the Rotorua Boys' High School Memorial.
Disclaimer
The Vietnam List is an updated version of New Zealand's original Vietnam nominal roll – the Flinkenberg List – compiled by Captain Con Flinkenberg in 1972. Name, rank and unit information are from New Zealand military pay records. Read more about the Vietnam List.