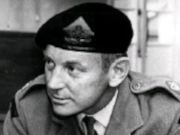 First name(s)
John Millbanke
Place of burial
Christchurch
Notes
John Masters was born in Invercargill in 1934 and educated at Southland Boys' High School. He joined the New Zealand Army as a territorial in 1954, transferring to the regular force in 1956.
In April 2010, Lieutenant Colonel John Milbanke Masters was named as New Zealand's inaugural Anzac of the Year, an award recognising comradeship, courage, and commitment.
It was recognition of a life in which Masters put others first, from life-saving deeds on the battlefields of Indonesia, which earned him a Military Cross, to campaigning for the rights of Vietnam War veterans exposed to the defoliant Agent Orange.
The Military Cross, presented to Masters by the Queen, followed an action in Borneo in 1965 when Masters, attached to a Gurkha regiment, was retreating with his patrol under heavy fire. A sergeant major was badly wounded in the legs. Masters carried the Gurkha for 54 hours through thick jungle and swamp. He then hid the wounded soldier in the jungle, got back to base, and organised a search party, travelling with them back through the jungle to retrieve their injured comrade.
In February 2010, Masters was reunited for the first time with Hariprasad Gurung, the Gurkha he had saved. In addition to his service in Borneo, Masters served in Vietnam as battery commander of the New Zealand Artillery Battery, a position he still held when 161 Battery returned home in May 1971.
The battery's civic parade up Queen St, complete with howitzers, was met with anti-war protesters, firecrackers, and paint bombs. Masters, as leader of the parade, was the subject of a citizen's arrest by activist Roger Fowler and charged with offensive and disorderly behaviour. Magistrate H. Y. Gilliard, who described the application as "misconstrued and abusive", threw out the case.
Masters retired from the Army in 1983, after 27 years' service. He became involved in campaigning for recognition of the exposure of New Zealand soldiers to Agent Orange in Vietnam. The chemical is known to be a cause of cancer in people who have been exposed to it, and a cause of deformity in ensuing generations. Masters' maps revealed heavy US spraying of the defoliant in Phuoc Tuy province, where most New Zealand soldiers spent their time in Vietnam.
In 2008, the veterans received a formal government apology from Prime Minister Helen Clark for the failure to recognise their service in Vietnam, and for a failure to recognise and compensate for the effects of Agent Orange.
Colonel Masters died on 28 October 2010 after a long battle with cancer.
Disclaimer
The Vietnam List is an updated version of New Zealand's original Vietnam nominal roll – the Flinkenberg List – compiled by Captain Con Flinkenberg in 1972. Name, rank and unit information are from New Zealand military pay records. Read more about the Vietnam List.