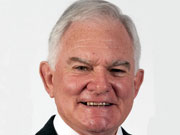 Honours & Awards:
NZOSM, NZGSM 1992 (Warlike), NZSSM (Mururoa Nuclear Testing), South Vietnamese Campaign Medal, MNZM (2016)
Notes:
First war correspondent sent from New Zealand to South Vietnam in 1965. Working for the NZPA, he was attached to 161 Battery RNZA, and was wounded in the same landmine explosion that killed Sergeant Alastair Don and Bombadier Robert White during Operation Ben Cat in September 1965. Awarded MNZM in 2016 for services to journalism.
Disclaimer
The Vietnam List is an updated version of New Zealand's original Vietnam nominal roll – the Flinkenberg List – compiled by Captain Con Flinkenberg in 1972. Name, rank and unit information are from New Zealand military pay records. Read more about the Vietnam List.