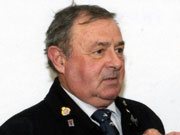 First name(s)
William Kenneth
Notes
RNZAF Aircrew Air Signaller, 1956–1977. Complete two tours with No. 41 Squadron on Bristol Type 170 Freighters based at RAF Changi in Singapore, 1964–1966 and 1969–1971. Flew numerous support flights into Vietnam (Saigon, Vung Tau, Nui Dat, Qui Nhon, Bong Song) and Cambodia (Phnom Penh).
Vietnam War Oral History Project interviewee. Interview and transcript held in the Alexander Turnbull Library Oral History and Sound collection in Wellington, New Zealand. Reference: OHInt-0959-55
Disclaimer
The Vietnam List is an updated version of New Zealand's original Vietnam nominal roll – the Flinkenberg List – compiled by Captain Con Flinkenberg in 1972. Name, rank and unit information are from New Zealand military pay records. Read more about the Vietnam List.