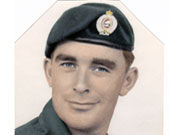 First name(s)
Donald Campbell
Also known as
Donald Campbell Morgan
Place of burial
Wairoa Cemetery, Wairoa
Notes
Died on active service, 11 July 1969 – medical reasons.
Don Frith grew up in northern Hawkes Bay, attending Marumaru Primary School, north of Wairoa, and then Napier High Boys' High School in Napier. He joined the Army as a National Serviceman and was posted to 1 Battalion Depot Burnham for infantry training. His next posting was to 1RNZIR at Terendak in Malaysia in November 1968. Six months later he was posted to Vietnam with V4 Company. Nine weeks into his Tour of Duty, Don became very sick and died of illness on 11 July 1969. Buried in Terendak Camp, Malaysia on 13 July 1969. His remains were repatriated to New Zealand in 2018 and reinterred in Wairoa Cemetery.
Disclaimer
The Vietnam List is an updated version of New Zealand's original Vietnam nominal roll – the Flinkenberg List – compiled by Captain Con Flinkenberg in 1972. Name, rank and unit information are from New Zealand military pay records. Read more about the Vietnam List.