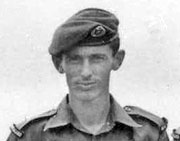 First name(s)
Douglas Colin
Notes
Seventeen-year career in the New Zealand Army. This included stints in Air Dispatch, Transport and Infantry. Served in Vietnam with V4 Company, 1969-1970.
President at Pukekohe & Districts RSA and Vice-President at Waiuku RSA.
Disclaimer
The Vietnam List is an updated version of New Zealand's original Vietnam nominal roll – the Flinkenberg List – compiled by Captain Con Flinkenberg in 1972. Name, rank and unit information are from New Zealand military pay records. Read more about the Vietnam List.