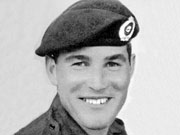 First name(s)
John Stewart
Place of burial
Waipukurau Cemetery
Notes
Killed in action, 17 June 1969 – gunshot wounds to head and neck in contact.
John (Jack) Williams grew up in Waipukurau and joined the Regular Force cadets in 1965. After postings to NSTU Burnham and 1 Battalion Depot, he joined 1RNZIR at Terendak, Malaysia in November 1968. A training accident prevented him from accompanying the main body of V4 Company to Vietnam in May 1969. He rejoined the Company on 17 June 1969 during Operation Laverack. He was killed in action later that day when V4 encountered a large enemy bunker system. Buried in Terendak Camp, Malaysia on 28 June 1969 and reinterred at Waipukurau in August 2018.
Read an article about Jack Williams (Napier Mail, 3 April 2012).
Disclaimer
The Vietnam List is an updated version of New Zealand's original Vietnam nominal roll – the Flinkenberg List – compiled by Captain Con Flinkenberg in 1972. Name, rank and unit information are from New Zealand military pay records. Read more about the Vietnam List.