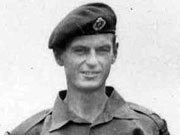 First name(s)
Murray John
Place of burial
Andersons Bay Cemetery, Dunedin
Notes
Killed in action, 2 August 1969 – booby trap at Lang Phuoc Hai.
Murray Turnbull was the youngest of three children and attended Bayfield High School in Dunedin. After completing basic training at Waiouru, he was posted to Alpha Company, 1 Battalion Depot at Burnham. Having joined 1RNZIR at Terendak in Malaysia he was sent to Vietnam with V4 Company in May 1969. He was killed in action during Operation Mundingburra as a result of booby trap device.
Disclaimer
The Vietnam List is an updated version of New Zealand's original Vietnam nominal roll – the Flinkenberg List – compiled by Captain Con Flinkenberg in 1972. Name, rank and unit information are from New Zealand military pay records. Read more about the Vietnam List.