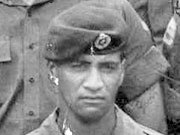 Notes
Died of wounds, 24 November 1969 – shrapnel from claymore mine explosion.
One of 10 children, Pete grew up in Shannon and became a prefect at his local primary school.
After completing his infantry training at Burnham, he was posted to 1RNZIR at Terendak, Malaysia in November 1968, and then to Vietnam with V4 Company in May 1969.
On 24 November 1969 he and three other members of V4 were on patrol with an ARVN platoon when they were ambushed. In the ensuing contact, Pete (who was the M60 machine gunner) was mortally wounded and Jerry Barrett killed. Two other New Zealanders – Ray Davidson and Patrick Smith – were wounded.
Disclaimer
The Vietnam List is an updated version of New Zealand's original Vietnam nominal roll – the Flinkenberg List – compiled by Captain Con Flinkenberg in 1972. Name, rank and unit information are from New Zealand military pay records. Read more about the Vietnam List.