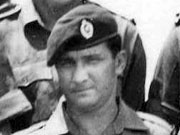 First name(s)
Richard Ellison
Honours & Awards
Unit Citation for Gallantry (Australia)
Notes
Seconded to 161 Battery as Dvr Op from 15 Sep 1967 to 17 Sep 1968. Served in FSB Coral and Balmoral. 
Served in Whisky 3 Company as infantryman.
Disclaimer
The Vietnam List is an updated version of New Zealand's original Vietnam nominal roll – the Flinkenberg List – compiled by Captain Con Flinkenberg in 1972. Name, rank and unit information are from New Zealand military pay records. Read more about the Vietnam List.