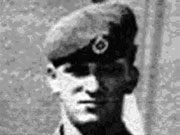 First name(s)
Te Wa Moana
Place of burial
Pouawa, near Gisborne
Notes
Killed in action, 19 March 1970 – shrapnel and gunshot wound to head during ambush in bunker system, Nui Dinh Hills.
Mo was one of nine children who grew up Whangara, 30km north-east of Gisborne. From a farming background, he went to a farming college in Te Urewera where he met Nehe Karauria, the head shepherd from Paparatu Station. Nehe had served with W1 Company in Vietnam. It was perhaps no surprise then when Mo followed in Nehe's footsteps and went to Vietnam as a rifleman with V4 Company.
On 19 March 1970, less than two months before the end of his Tour of Duty, Mo was killed in a major contact during Operation Waiponamu in the Nui Dinh Hills. Four other New Zealanders – Bill Keatch, Olly Taukamo, Beau Heke, and Tom Tuhiwai were wounded in the same action.
Disclaimer
The Vietnam List is an updated version of New Zealand's original Vietnam nominal roll – the Flinkenberg List – compiled by Captain Con Flinkenberg in 1972. Name, rank and unit information are from New Zealand military pay records. Read more about the Vietnam List.