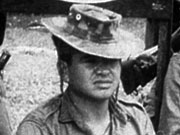 First name(s)
William Taerikimataki
Notes
Tour one: 
V2 Company (12 Nov 67–13 May 68). Back to Terendak Camp in Malaysia from 14 May to 16 Nov 1968.
Tour two:
V3 Company (17 Nov 68–8 May 69). V3 had deployed to Vietnam 13 May 1968. Deployed as a reinforcement? File is not clear for posting reason.
V4 Company (8 May 69–1 Nov 69). Note that V4 stayed in Vietnam until 8 May 1970.
W2 Company (1 Nov–15 Nov 69) then returned to Terendak with W2 Coy, then moved with the rest of 1RNZIR to Nee Soon Garrison in Singapore 2 Dec 1969. They were all complete on the ground by 15 Dec 1969.
Tour three: 
V5 Company (26 Aug 70–10 Nov 70). Deployed as a reinforcement and was returned to 1RNZIR in Nee Soon in Singapore. Then returned to New Zealand late Nov 1970. (Note that Victor Five Coy stayed in Vietnam until 5 May 1971).
Note: 1RNZIR moved from Punjab Square in Nee Soon Garrison to Dieppe Barracks at Sembawang in Singapore on 1 June 1971.
Disclaimer
The Vietnam List is an updated version of New Zealand's original Vietnam nominal roll – the Flinkenberg List – compiled by Captain Con Flinkenberg in 1972. Name, rank and unit information are from New Zealand military pay records. Read more about the Vietnam List.