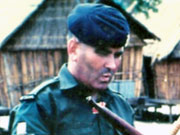 First name(s)
Kenneth Robert
Honours & Awards
Public Health Service Medal 2nd Class (SVN)
Notes
Captain (Retired), RNZAMC: Territorial Force, 1950–1959; Regular Force, 1959–1982. Served in Vietnam with NZSMT, 1968–1969 and New Zealand (Civilian) Surgical Team, 26 October 1972 to 15 November 1973.
Vietnam War Oral History Project interviewee. Interview and transcript held at the Alexander Turnbull Library Oral History Centre in Wellington, New Zealand. Reference: OHInt-0959-42
Disclaimer
The Vietnam List is an updated version of New Zealand's original Vietnam nominal roll – the Flinkenberg List – compiled by Captain Con Flinkenberg in 1972. Name, rank and unit information are from New Zealand military pay records. Read more about the Vietnam List.