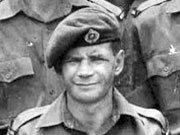 First name(s)
Jerry Tauri
Also known as
Birth name was Herehere
Notes
Killed in action, 24 November 1969 – claymore mine explosion.
Herehere (Jerry) was brought up in the Waitomo Caves area and was a member of the military cadets at school, attending camps at Waiouru and Papakura.
He joined the Army at aged 17 and completed a plumbing apprenticeship with the Corps of Royal New Zealand Engineers. Posted to Malaysia, he joined V4 Company in Vietnam on 8 May 1969.
On 24 November 1969 he and three other members of V4 were on patrol with an ARVN platoon when they were ambushed. In the ensuing contact, Jerry was killed and Peter Rauhihi mortally wounded. Two other New Zealanders – Ray Davidson and Patrick Smith – were wounded. 
Buried at Te Kuiti Marae urupa 10 December 1969.
Disclaimer
The Vietnam List is an updated version of New Zealand's original Vietnam nominal roll – the Flinkenberg List – compiled by Captain Con Flinkenberg in 1972. Name, rank and unit information are from New Zealand military pay records. Read more about the Vietnam List.